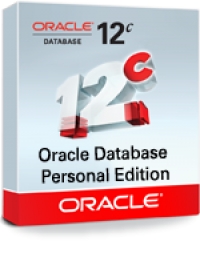 Oracle-DPE
Oracle Database Personal Edition
Oracle Database Personal Edition
Oracle Database Personal Edition is designed to provide software developers a cost effective, yet full featured Oracle Database environment on which to develop, test and run custom or packaged applications. Designed without technical limits, time bombs or other \"gotchas\", the Personal Edition provides all the power of the Oracle Database at a very attractive price point. With its ability to handle virtually any type or size of data (from gigabytes of transactions to terabytes of XML data), the Personal Edition takes you a significant step towards mastery of the Oracle environment.
Please Note: Not all versions of Linux are supported. Refer to the installation guide, found in the Technical Specifications link below, to ensure compatibility before adding to your cart.


The #1 Database Designed for the Cloud
Consolidate and mange databases as cloud services. Accelerate analytical performance—while achieving new levels of efficiency, security, and available. Oracle Database can be rapidly provisioned and ready in minutes. With just a few clicks, you can stand up new database instances in a complete development environment. Best of all, there are no application changes when you move your legacy databases to Oracle's secure and optimized cloud platform.
---
Plug Into the Cloud
Consolidate databases into database clouds and manage them as one to improve efficiency and simplify administration.
Power the Real-Time Enterprise
Unleash competitiveness and profitability by making data-driven decisions, responding instantly to demands, and continuously optimizing key processes.
Engineering Database Innovations
For over three decades, Oracle has engineered database innovations to simplify IT and power innovation.
---