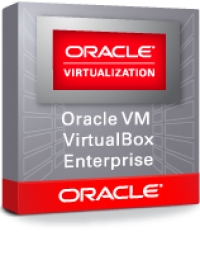 Oracle_VMVE
Oracle VM VirtualBox Enterprise
Oracle VM VirtualBox Enterprise
Oracle VM VirtualBox is cross-platform virtualization software that allows you to run multiple operating systems, on your existing computer, at the same time. Designed for IT professionals, VirtualBox runs on Microsoft Windows, Mac OS X, Linux and Solaris systems and supports a wide range of guest operating systems. So, for example, you can run Windows on your Mac, run Linux on Windows, run Solaris on Linux, or run Windows 7 on Window XP. VirtualBox is ideal for testing, developing, demonstrating and deploying solutions across multiple platforms on one machine. VirtualBox is based on open source software and is free for personal use. Commercial licenses and support are also available.
Oracle VM VirtualBox
Test, Develop, and Demonstrate Across Multiple Platforms on one Machine
The world's most popular cross-platform virtualization software enables you to run multiple operating systems on your Mac, PC, Linux, or Oracle Solaris machine.
Multiple operating systems on one desktop
Cross-platform guests and hosts including Windows, Linux, and Oracle Solaris, and Mac OS X as a host
Teleportation of running virtual machines between hosts without interruption
High performance
Support for massive workloads of up to 32 virtual CPUs
OVF format support